Christy Barritt
Note:  If you purchase anything from links on this site, I may make a commission.
Join our Facebook page.
Christy Barritt is one of the most prolific writers I have ever read.  I think she can write faster than I can read!  She has over 100 published books in the mystery/suspense genre, with a dash of romance sprinkled in.  To date, I have read about half of her books...and enjoyed them all.

Although Christy Barritt has some stand-alone books, most are in series.  Lantern Beach, a small community near the Pamlico Sound in North Carolina, is the centre of much of the action.  [It reminds me of Cabot Cove of Murder She Wrote fame, in which I wondered how many crimes could happen in such a small community - but they did!]. There are many series that branch out from this one small community.
Christy Barritt's Lantern Beach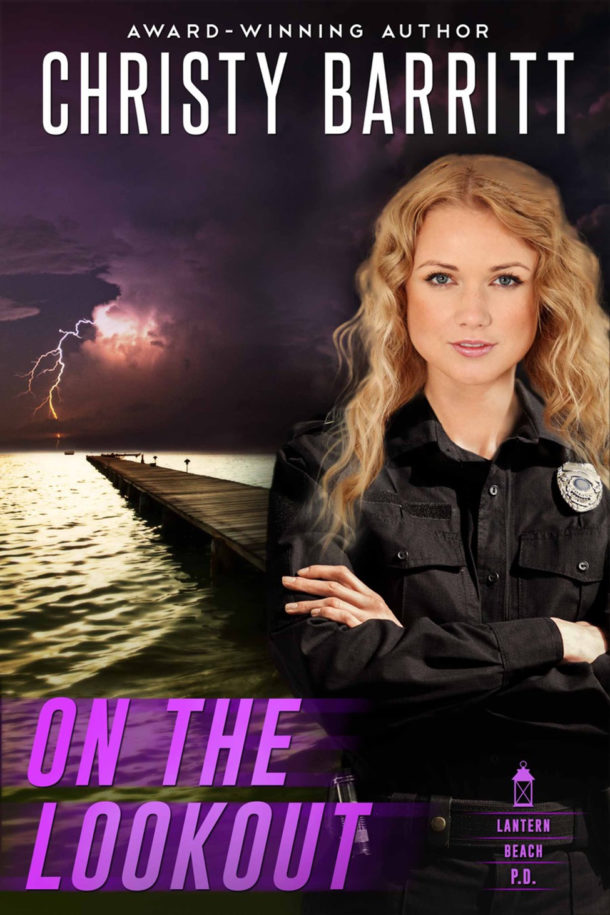 I first entered Lantern Beach through the Lantern Beach P.D. series.  Cassidy Chambers, a woman with a hidden past and an ex-SEAL husband, is the Police Chief of Lantern Beach.  In each book in this five-part series, Cassidy and her friends must solve mysterious puzzles and face dangerous criminals.  Yet just below the surface, a deadly cult is establishing a beachhead in their once peaceful community.  Could all the crimes really be connected?  Each book, although a complete story in itself, builds to the thrilling conclusion.  
Blackout is a security firm made of ex-SEALS who need some healing.  Their headquarters is on Lantern Beach, and several series follows their adventures as they risk their lives to protect the innocent, unravel mysteries, expose conspiracies, and bring criminals to justice.  But at what cost?  I have just finished the third book in the Blackout: Danger Rising series.  I can't wait to get into the final book Titus.  Is Titus' sister-in-law really involved in the villainous The System organization?  What kind of problems is that going to cause?
The Squeaky Clean Mysteries
Although I love reading about Cassidy Chambers, and going back to read her origin stories is on my wish list, the series that captured my imagination is Squeaky Clean Mysteries.  Enter Gabby St. Clair.  A spunky redhead who desires to be a forensic scientist but whose family and money problems caused her to drop out of school.  Not one to give up and needing money, she did the next best thing.  She started a crime scene cleaning business.  
How much trouble can a person get into cleaning up crime scenes?  After all, the crime has already happened and been investigated.  Leave it to Gabby.  Trouble just finds her from a dead Elvis impersonator to a serial killer.  As I read through the 18-book series, I would sometimes plead with Christy Barritt [in my mind, of course], "Give the girl a break.  She can't take anymore!"  But Gabby always came through, triumphing in her personal and professional life.  A movie has just been released based on the first book.
I could go on with great series' like The Sidekick's Survival Guide Mysteries, but you get the idea.  Christy Barritt always has challenging situations and interesting characters in her books.  My wife and I read them together in our backyard or on trips, whether we are travelling 40 minutes to a nearby town or 7 hours across the province.  They have made the time fly pleasantly.  Check them out on her website listed below.
Visit Christy Barritt's website here.
Book Reviews
School Of Hard Rocks Book 3: Tone Death.
Lantern Beach Exposure Book 2: Shattered Whispers

Recent Articles
Nov 27, 23 09:17 PM

The background history of the El Empire as told by Chief Scribe Jashar.

Nov 21, 23 01:43 PM

The Search For Cleopatra: The True Story Of History's Most Intriguing Woman is an interesting look at who Cleopatra was. The book begins by looking at

Nov 15, 23 12:09 PM

Even today, the name of Genghis Khan is able to strike fear into the hearts of people. This man rose from poor beginnings to unite fragmented Mongol clans