Glenn Davis Books
Note:  If you purchase anything from links on this site, I may make a commission.
Join our Facebook page.
Welcome to Glenn Davis books.  Do you love books?  So do I.  Do you prefer fiction, non-fiction or both?  Books can be your best friends or your worse enemies.  Some books will build you up and inspire you to be your best; other books have destroyed civilizations.  If you stop to think about it, your life - and mine - is built on words.  Not just any words, but words we have heard or read, believed and acted on.  Everything starts with a thought, which is made up of words.  Words spoken by parents - good or bad - are powerful and shape our lives.  Words from friends and even strangers can also impact our lives.  
The sad thing is that the words we have heard/read and believed do not have to be true to drive our lives.  We will act on them if we believe them - true or false.  For example, a child who is constantly told, "You are stupid," will believe and act that way even though it is not true.  We must be careful what words we allow into our minds, although we should not live in fear.  Words will only benefit or harm us if we believe them and act on them.  This is why we need to examine what we read for truth and reject what is false - even in fiction.
I trust you will explore and enjoy this site. You will find some of my favourite authors and information about their books, quotes I have personally selected from authors I read, interesting short history stories, free books and new authors. I hope you will also tell me about your favourite authors and books. Who do you like to read? What is your favourite book? What do you recommend and why?  You can quickly enter all that information in the forms provided, and your review will become a permanent page on this site for all to learn from and enjoy.  Don't deprive us of that!  And then take time to see what other bookworms like us are reading.
First, I do not sit down at my desk to put into verse something that is already clear in my mind. If it were clear in my mind, I should have no incentive or need to write about it. We do not write in order to be understood; we write in order to understand.  C. S. Lewis
Struggling With Reading?
I know you are probably at Glenn Davis Books because you like to read; however, you may know someone who struggles with reading.  They may have tried, been discouraged and given up.  They may no longer believe that they can master the skill of reading.  They are missing out on the wonderful world of words.
Many children and adults struggle with reading, yet anyone who has the ability to speak English can be taught to read it.  Most often, the problem is that they have not been taught correctly.  My wife and I have a reading business where we teach children and adults to read.  People who have failed in other programs master this vital skill in our program.  We teach one-on-one in-house [if you live in Vernon, BC] or online.  Check out the details of our program at Learn To Read.
Who Am I?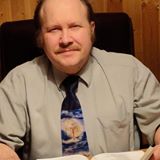 My wife, Diane, and I live in Vernon, BC, where I work at a grocery store full-time.  In the evenings and on my days off, I work on writing.  Most of my writing has been articles and courses on various aspects of Christianity.  I have an entire website dedicated to that. 
Glenn Davis' Non-Fiction
Most of my non-fiction is available as articles and Bible courses on my website, Free Bible Study Lessons.  However, I am working on non-fiction books to help readers understand and apply Christianity.  Check them out!